In October of 1998, the U.S. Consumer Product Safety Commission and Central Sprinkler Company issued a joint nationwide recall of 8.4 million Omega brand fire sprinklers. However last week, we had two new customers with Central Model HEC-12 installed and had no idea they were part of the recall. This 1998 recall originally represented less than two percent of the total number of sprinkler heads in use (8.4 million out of over 500 million). Knowing sprinkler systems are extremely reliable and will provide the expected high degree of life and property safety, we would like to remind you that Omega heads are still recalled and replacement is at the customers' expense.
We strongly encouraged the public and building owners to find out if they have Omega sprinklers installed in their buildings and to contact Master Craft if Omegas are installed. The recall came about because there were 17 cases in which some Omega sprinklers failed to activate. Fortunately, there has been no loss of life in these fires, and we know that there have been hundreds, if not thousands, of successful activations with Omega sprinklers. Fire sprinklers do save lives!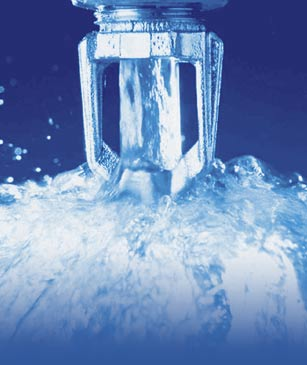 Fire sprinklers have a superior success rate when properly inspected and maintained. They have been installed in buildings for more than 100 years and about 30 million sprinkler heads are now installed each year. The National Fire Protection Association (NFPA) reports that there have been no instances of multiple fatalities in buildings protected with sprinklers. Fire sprinklers for residential dwellings have been available since the early 80's. Jurisdictions that require sprinklers in homes report that there have been zero fire deaths in homes protected with sprinklers.
Building and home owners with automatic fire sprinkler systems are encouraged to find out if they have Omegas installed.
The recall of the Omega sprinklers includes models referred to or marked as follows:
C1 (or C-1)
C1A (or C-1A)
C-1A PRO (or C1-A PRO)
C1-A PRO QR
EC-20
EC-20A
R-1
R-1A
R-1M
Flow Control (FC, Flow Control-FC)
Protector-M or M Protector (Upright, Pendent, Sidewall, Sidewall EC)
HEC-12
EC-12 RES
HEC-12 EC
HEC-12 EC PRO
HEC-12 ID
HEC-12 PRO
HEC-12 PRO QR
HEC-20
Prohibitor QR and AC