Spring brings many things…warmer weather, blooming plants and tax refund checks! Plumbing and taxes–two things we all have in common.
This is the year to rejuvenate your bath or kitchen plumbing fixtures with your tax refund!
Trends are showing people are spending more time at home and moving less so upgrade your surroundings now with better fixtures. Especially since you are home to enjoy them more often, the personal ROI for upgrading and fixing plumbing issues has never been greater!
Blake Ellis, staff reporter for CNN Money, says the average 2010 refund is about $3000 — a 5% boost from the previous year.
Here are some rejuvenating renovation examples using half and all of the average tax refund money:
Option One: $1,500
Shower Bath Upgrade
one standard water closet
one china lavatory replacement
single handle lavatory faucet
Or
Kitchen Upgrade
new stainless steel sink
single handle sink faucet
garbage disposal
ice maker water line
Option Two: $3,000

Tub Bath Upgrade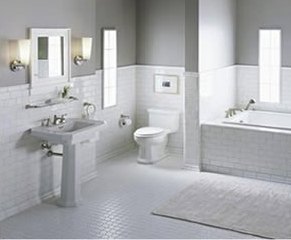 standard tub replacement
one water closet
two single handle faucets
And
Personal Shower Upgrade
one rain shower head
multiple standard shower heads
body sprays
All fixtures and faucets to be standard contractor grade and may not be those pictured. Also note, the price examples do not include any other trade's work that may be necessary such as wall board, tile, cabinets etc.
Here are some tips to selecting a craftsperson to complete the work and why a do-it-yourself type agrees to call a professional!
Do you plan to reinvest your
tax refund dollars

back into your home?

Images: Morgan Bros Supply